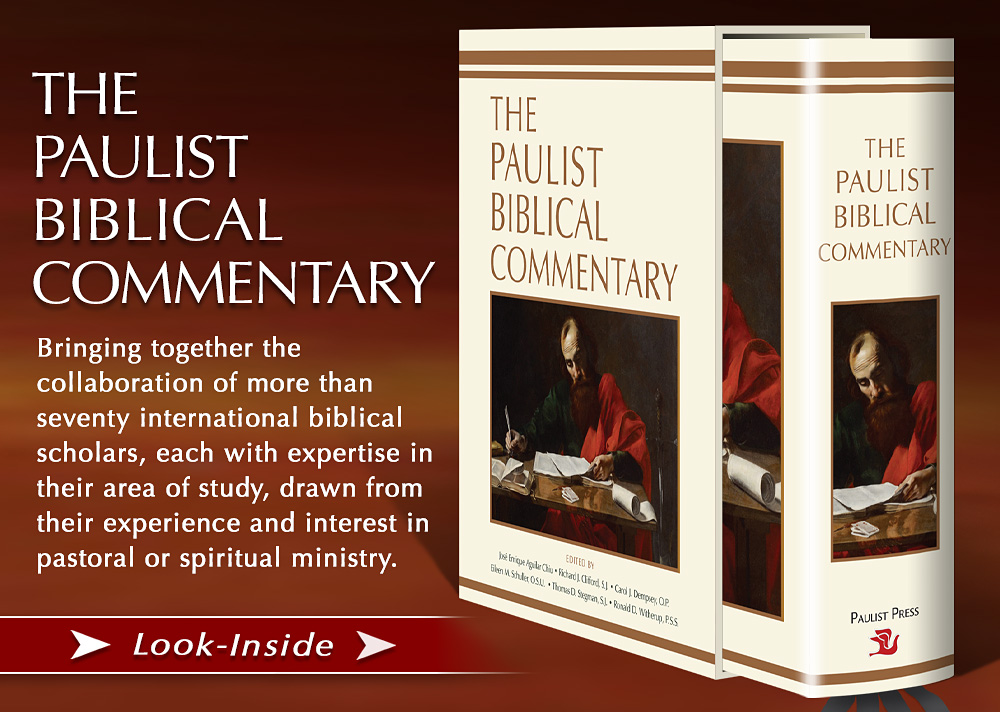 The Paulist Biblical Commentary (PBC) is a comprehensive one-volume commentary on the books of the Bible designed for a wide variety of Bible readers, especially those engaged in pastoral ministry. The volume consists of a commentary on each of the seventy-three books of the Catholic canon of the Bible along with twelve general articles. While based on classical approaches to Scripture, the commentaries and articles are not limited to historical-literary issues but draw upon relevant theological and pastoral ideas found in the text.
— Use Promotion Code PBC731 for 30% Discount! —
*Special Offer Prepublication Price $99.95,
valid thru July 31, 2018

Primary Audience
Bible readers of all faiths looking for up-to-date introductions and interpretations of books of the Bible thoroughly in tune with the results of the best scholarship today but also accessible for the pastoral and spiritual message of Scripture.

Bishops, pastors, priests, pastoral ministers, deacons, seminarians, catechists, Bible study groups (and leaders), libraries, theological schools, professors, and students, who would all want in on their shelves for easy reference.
Advantages
Less technical than other commentaries and less oriented to an explanation of exegetical details. Rather, The Paulist Biblical Commentary interprets the text in larger sections to get the overall message of the text, especially its spiritual and pastoral insights.

International and ecumenical in scope while also being within the Catholic tradition of "reading the Bible with the Church" or putting the interpretation in the wider context of the "living tradition of the Church."

Offers in one book information that would otherwise be widely scattered in many books.

Combines careful up-to-date scholarship, based on classical methods, with a keen sense of its relevance for Christian life.

Contributors have borne in mind that the Bible speaks to both people of faith and others who are interested in the most influential book on the planet.

Pays close heed to the Church's teaching and practice on Scripture.

Abiding pastoral concern without diluting its scholarly standards.
Features
Distinguished editorial board and outstanding contributors

Destined to become a classic in the field of biblical scholarship

1,686 pages

Sewn binding

4 ribbon markers

Slip case

8 x 10 format size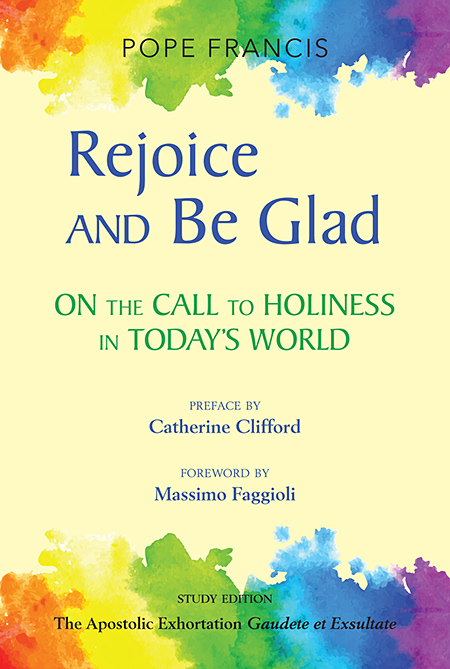 Rejoice and Be Glad
On the Call to Holiness
in the Contemporary World
In this newest papal exhortation, released on April 9, 2018, and entitled Gaudete et Exsultate (Rejoice and Be Glad), Pope Francis looks at the call to holiness in today's world, which is something to which we all can aspire. No matter who we are, young or old and no matter what our vocation, it is in the very act of living—with humility, kindness, and mercy—that we can become holy.
Holiness is in everyday life, with its risks, challenges, and opportunities, but we do not have to settle for a mediocre existence. Rather, the pope challenges us to find a practical holiness, a "next door" holiness.
The pope's overarching message here, and the theme of his papacy, is this: We must cultivate seeing and acting with mercy. As the pope writes, "A person's perfection is measured not by the information or knowledge they possess, but by the depth of their charity."